Quentin Tarantino's movie is latest twist in debate on racial epithet, but some believe controversy could help race relations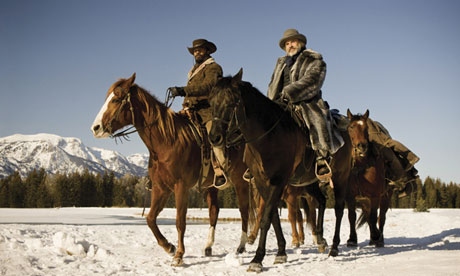 In Nigger: The Strange Career of a Troublesome Word, Harvard professor Randall Kennedy sees his subject as "the nuclear bomb of racial epithets", a weapon that's been used to wound and degrade black people for three centuries. Some of those who still view it that way continue to want it banned completely from both public and private discourse.
The comedian Lenny Bruce shared Tarantino's infatuation. Julian Barry's Oscar-nominated screenplay for his biographical film, Lenny, has him justifying it thus: "It's the suppression of the word that gives it the power, the violence, the viciousness. If President Kennedy would just go on television and say … 'Nigger, nigger, nigger, nigger, nigger' to every nigger he saw … till nigger didn't mean anything any more, then you could never make some six-year-old black kid cry because somebody called him a nigger at school."
Other hate-labels have been eliminated successfully through a recognisable cycle of decontamination. First, the target-group reclaims the insult and starts flaunting it as a badge of collective pride. After a time-lag, this usage seeps through to the general population. As this happens, the word in question is gradually drained of its malign potency. Having lost its point, it then disappears completely, liberating its former victims for ever from a once-effective instrument of abuse.
The word "queer" has been through this process. No replacement has emerged. "Dyke" seems to be going the same way, as perhaps are "wop" and "dago", while "crip", "bitch" and "slut" might be embarking on the same journey.
As yet, the leap into the mouths of the well-meaning wider community has yet to occur. In 1993, a white basketball coach at Central Michigan University heard his African-American players using the word "nigger" to commend each other on an effective manoeuvre. He asked their permission to use the word in the same way; when they gave it, he did. His reward was censure by his superiors, sensitivity training, two campus protests and eventually dismissal.
Even so, Fox's finest still bottled it. Clearly, there is some distance to go on the yearned-for path to perdition. Perhaps Django Unchained will help things on their way.